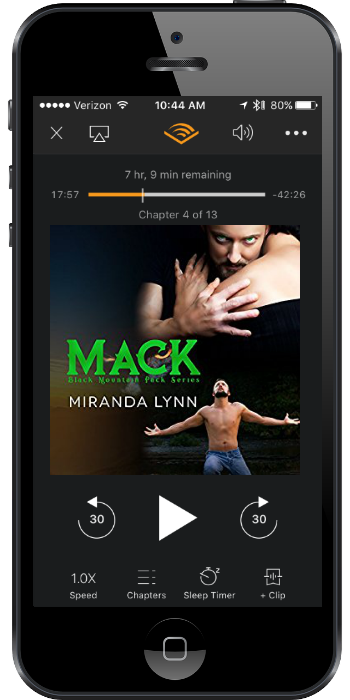 Author: Miranda Lynn
Narrator: Brian Callahan
Series: Black Mountain Pack
Length: 4 hours 25 minutes
Publisher: Miranda Lynn
Released: Aug. 4, 2017
Genre: Paranormal Romance
Rating: 5 Stars
I received this audiobook as part of my participation in a blog tour with Audiobookworm Promotions. The tour is being sponsored by Miranda Lynn. The gifting of this audiobook did not affect my opinion of it.
His missing sister or his mate?

Casey grew up in the foster care system and it wasn't easy. A whirlwind of events after she ages out shows her why. Her repressed shifter side emerges with the help of her soon to be mate and his pack. She does her best to learn who and what she as while under the pressure of being hunted by her biological father and his pack.

Mack has been searching for his adopted sister for years after her kidnapping and thinks he has finally found her. His shifter side on the other hand thinks they have found their mate. Fate throws them together in the midst of an oncoming battle and Mack lets instinct take over and follows his heart.

When the truth comes out the mating instinct takes over and together Mack and Casey change the rules of shifter laws once again.

– ​Time Travel and Paranormal Romance author. Her Destiny series takes you on a roller coaster ride through time with sexy Highlanders and sassy female heroines. If shifters are your kryptonite then check out her Black Mountain Pack series which throws a​ ​twist​ ​on​ ​the​ ​traditional​ ​shifter​ ​lore.
Miranda is a mother to two teenage boys who are sure they know it all, a 75lb lapdog, a 15lb foot warmer, and a cat that most days plans her demise. She is thankful her husband doesn't mind the extra voices in her head. Miranda is an only child who grew up on a dairy farm in Illinois which left her plenty of time to make up stories in her head for entertainment. She currently resides in Tennessee where she wonder if Mother Nature will ever stop with the hormonal mood swings. She fuels herself with​ ​coffee,​ ​chocolate,​ ​and​ ​wine.


Brian is a three-time Emmy winner and on-air news personality. His diverse audiobook catalogue features one of Kirkus Reviews' "Best Indie Books" as well as an Independent Publisher Book Awards Finalist. Brian brings more than two decades of broadcasting experience to his voice work, which includes nearly 20 audiobooks available on Audible and iTunes. He lives with his wife and family in Seattle.

If you could sum up Mack in three words, what would they be?
Steamy, Action, Fantasy
What did you like best about this story?
The author does a great job of grabbing my attention so that I had no trouble focusing on just the story and let everything outside my little world just disappear.
What about Brian Callanan's performance did you like?
He was the perfect voice for Mack. Mr. Callanan made the story very enjoyable. You don't care that he doesn't have the type of voice for a female character. He left me wanting more once the story got to the end.
If you were to make a film of this book, what would the tag line be?
My expertise doesn't include having the knowhow to make a film. I'll leave that to the professionals.
Any additional comments?
The author and narrator were the perfect combination to enjoy this shifter story. Her words were a great vehicle for this narrator to bring her words to life. This was more of all types of shifters getting along instead of just focusing on one species. I look forward to reading more works by this author. And I look forward to listening to more of Mr. Callanan (already have a book in my wish list).
Q&A with Author Miranda Lynn
Tell us about the process of turning your book into an audiobook. Mack took a little longer than my previous two books. I was searching for just the right voice to bring it to life. I work all my audiobooks through ACX which is a wonderful way for me to bring my books to life for those that would rather listen to them. I put the book up on the website and make it available for all narrators to find, but then I start my search, narrow it down to a few and then enlist my elite listeners to listen to their clips and give me feedback. From there I send out invitations to those I really like to audition for the book. It's a process and this time took me six months to find the right voice, but Brian fit the bill.
How did you select your narrator? After listening to about six auditions Brian's voice caught my attention and after requesting a slight change to tone and attitude on a character I felt I hit the jackpot.
How closely did you work with your narrator before and during the recording process? Brian was very good at communication and I worked closer with him than I have any other narrator. Did you give them any pronunciation tips or special insight into the characters? Yes, I did send character info to him, but he prompted me to do so. It's not something I had done before, but will do from now on. He took great direction and was always open to any change that I needed. But those were few and far between, I feel that Brian really got into the story and character lines well.
Were there any real life inspirations behind your writing? No, that's what I love about writing this series, it was fun to create it from the ground up. When Brian asked for character sheets, and any actor/actresses that came to mind for the voices it took me a couple days to compile the list as i just ran with what they said in my head.
How do you manage to avoid burn-out? I take a break between books and read, it gives me time to decompress and usually inspires me to get back to the next book.What do you do to maintain your enthusiasm for writing? I read, I talk to other authors, and interact with the readers.
Is there a particular part of this story that you feel is more resonating in the audiobook performance than in the book format? There is a scene where Casey finds out who and what she truly is that seems to come across really well in audio, and the banter between. Rook and Casey in the tunnel makes me laugh a bit.
What bits of advice would you give to aspiring authors? Keep writing, don't edit as you go, finish the story and put it down for at least a week before going back to it. Find a kick ass editor and a good cover.
Why did you choose to write paranormal romance? Because it's my favorite genre to read.
Do you have any tips for authors going through the process of turning their books into audiobooks? Be patient, don't rush it, and don't settle for someone who just isn't the right fit.
What's next for you? I hope to start work on Rook's audiobook soon, and am currently writing Sterling (the third in the BMP series).
with Author Miranda Lynn
Waffle fries or curly fries? Waffle fries
GIF with a hard g or soft g? Hard g
Fantasy or science-fiction? Fantasy
Superman or Batman? Superman
Text message or call? Text
Pancakes or waffles? pancakes
Doctor Who or the Walking Dead? ugh...The tenth Dr otherwise Walking Dead
TV Shows or movies? Both
Facebook or Twitter? Facebok
Alice in Wonderland or Robinson Crusoe? Alice in Wonderland
Being too warm or too cold? Too warm
Netflix or Hulu? netflix
Work Hard or Play Hard? Play hard
Passenger or Driver? Driver
Amusement Park or Day at the Beach? Beach
Honesty or Other's Feelings? Careful Honesty
Movie at Home or Movie at the Theater? Movie at home