Author: Kimberly Lewis
Narrator: Tiffany Williams
Series: The McKades of Texas, Book 3
Publisher: Kimberly Lewis
Released: Nov. 4, 2018
Genre: Contemporary Western Romance

This cowboy's about to be branded....

For years, Karlie Kyle has had it bad for Luke McKade - wishing he'd see her as something more than just a shy girl in braided pigtails. But now that she's all grown up, she's ready to stake her claim and brand the heart of the sexy, smooth-talking cowboy who "can't be tamed".

Punched with lust from the moment he sees her again, Luke is shocked when he realizes that little Karlie Jo isn't so little anymore. When she tempts him with a proposition he just can't refuse, he's happy to oblige - temporarily.

Karlie is willing to play along, but her heart is set on forever. As raw desire sparks something deeper, can Karlie convince Luke that rules are meant to be broken? Or will their passionate summer fling end with broken hearts instead?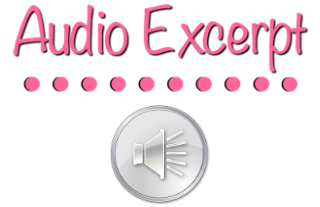 Kimberly Lewis is the bestselling author of sweet, sexy contemporary romances filled with heart and humor. She lives in Maryland with her husband and two children.
Having caught the creative bug at an early age, Kimberly fully embraced her active imagination and grew up with a fondness for reading, drawing, and crafting stories. She eventually veered away from the art world to explore other career options, but a rediscovery of her love for the romance genre reignited that creative spark and—just like that—her first novel was published in 2011. Her stories are filled with humor, emotion, and a whole lot of love.

Tiffany Williams is an Audible approved narrator who has been narrating audiobooks since 2013. Tiffany graduated from the University of North Texas with a Bachelor's in Theatre with an emphasis on acting and directing, plus a minor in psychology - so watch out! She may just analyze YOU! Tiffany has been working professionally since 1993 as an actor; director; producer; costume, sound and prop designer; stage manager; technical assistant; box office assistant; board member; business manager, production manager and college professor for theatres such as the Shakespeare Festival of Dallas, Dallas Theater Center, Berkshire Theatre Festival, Undermain Theatre, Project X, Theatre Britain, Audacity Productions, and Collin Theatre Center; and has pursued additional studies at the Kennedy Center, Folger Theatre, the National Stage Combat Workshop and Fairfax Public Access. She also provided voice-overs for plays, phone messaging services, and training videos. Tiffany is the author of the children's play, The Great Texas Treasure Hunt. She is an eight-time winner of a Collin Theatre Center Award and received the 2004 Unsung Heroine Award at Collin College. She has directed numerous productions of The Vagina Monologues which raised monies for Hope's Door, Victims Outreach and the Dallas County Sexual Assault Coalition. Since moving to Virginia to be with the man she has loved since our sophomore year in high school, she has been narrating audiobooks. Working with her husband and being home with the kids has been awesome! That is until the youngest refuses to nap.
Favorite Western Romance Books By Author Kimberly Lewis
Infamous by Suzanne Brockmann
Why I love it:
It's one of those books that has everything: a contemporary setting mixed with flashbacks to the old west, cowboys, military men, romance, suspense and … a ghost.
One Lucky Cowboy by Carolyn Brown
Why I love it:
Carolyn Brown's deep southern humor is one of my favorites and this book delivered so many laugh-out-loud moments for me (you've got me hooked when you can make me laugh out loud while reading). And out of all of the men in her Lucky in Love series, Slade was my favorite (can you say, super sexy cowboy?)
All Jacked Up by Lorelei James
Why I love it:
Two words: Jack Donahue. I swear, I love all of the McKay men in Lorelei James' Rough Riders world, but Jack just surpasses all of them for me with his GQ looks, smart mouth, and that secret sweetness he only shows for Keely. They are my all-time favorite book couple ever.
The Gambler by Lily Graison
Why I love it:
I love all of the books in Ms. Graison's Willow Creek series, but this one is my favorite so far because of Tristan. The way he is with Emmaline just does me in every time I read it.
Tall, Dark and Cowboy by Joanne Kennedy
Why I love it:
I'm a sucker for second chance romance. Mix that with some action and suspense and you've got one of my favorite Joanne Kennedy books.
Cowboy Take Me Away by Lorelei James
Why I love it:
It's a love story that covers a lifetime and one of the few books I've devoured in one sitting.
Why I love it:
I'm hooked on Ms. Dover's writing style and how she has the ability to keep you so deeply involved in her characters' stories. This was one of those books I hated to put down when real life called. Lots of suspense and a super sexy secret agent cowboy
☺
Learning the Ropes by T.J. Kline
Why I love it:
I'm not only a sucker for second chance romance, I'm also a sucker for friends-to-lovers. I found myself hoping things would work out for these characters and getting so frustrated with them at times that I wanted to just reach in the book and knock some sense into them.
Hometown Cowboy by Sara Richardson
Why I love it:
Second chance? Check. Friends-to-lovers? Check. Super sexy cowboy? Oh, hell yes.
One Fine Cowboy by Joanne Kennedy
Why I love it:
I love how Ms. Kennedy tends to take two characters who don't have anything in common and bring them together in the most magical way; and she delivered that big time in this book with Nate and Charlie.

Dec. 13th:
Dec. 14th:
Dec. 15th:
Dec. 16th:
Dec. 17th:
Dec. 18th:
Dec. 19th: