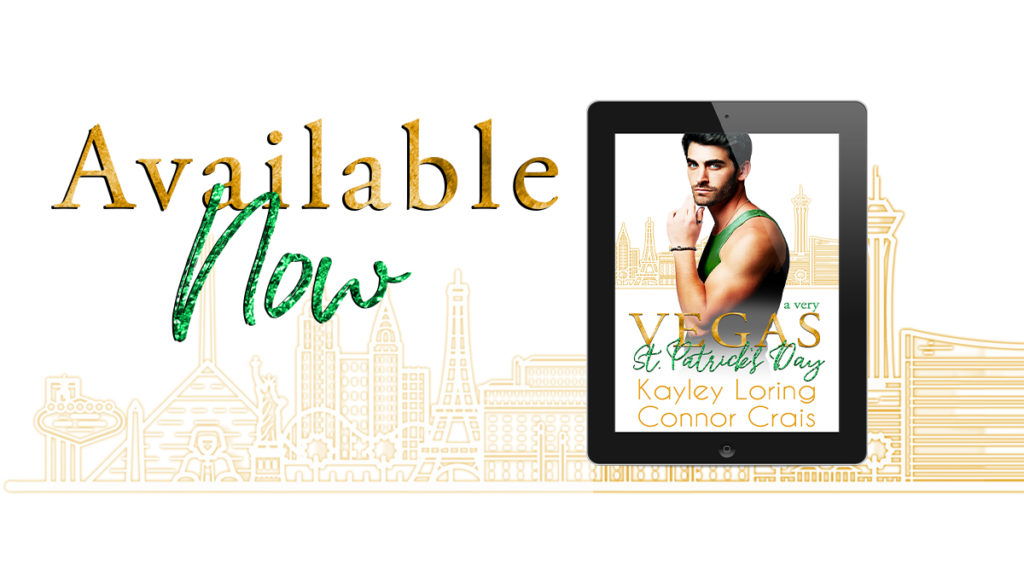 𝐀 𝐕𝐞𝐫𝐲 𝐕𝐞𝐠𝐚𝐬 𝐒𝐭. 𝐏𝐚𝐭𝐫𝐢𝐜𝐤'𝐬 𝐃𝐚𝐲 𝐛𝐲 𝐊𝐚𝐲𝐥𝐞𝐲 𝐋𝐨𝐫𝐢𝐧𝐠 𝐚𝐧𝐝 𝐂𝐨𝐧𝐧𝐨𝐫 𝐂𝐫𝐚𝐢𝐬 𝐢𝐬 𝐋𝐈𝐕𝐄 𝐚𝐧𝐝 𝐅𝐑𝐄𝐄 𝐢𝐧 𝐊𝐢𝐧𝐝𝐥𝐞 𝐔𝐧𝐥𝐢𝐦𝐢𝐭𝐞𝐝!
#ConnorCrais #KayleyLoring #wildfiremarketingsolutions
BLURB:
You might think the problem would be waking up in Vegas, hungover,
next to a beautiful woman who's wearing your boxer briefs
and finding out ya married her in the middle of an epic drunken night of festivities.
I, Nolan Cassidy, international charmer and maker of mischief have fallen head over heels for Cora Delaney.
I
want
to be married to the lass.
So you might think the problem would be that
she
wants an annulment.
But again you'd be wrong—stop getting it so wrong.
I, Nolan Cassidy, with my devil tongue and Irish accent, will no doubt change her mind.
Does the problem lie in that she has a son who doesn't like me and is as clever and crafty as I?
Or that I've only got one month—until St. Patrick's Day—to prove to my one true love
that I can be a good husband and father?
None of that is the problem.
My boxing days may be behind me
but the fight never left me.
When I see something I want, I get it.
And nothing is going to stand in my way.
Not my new wife's hesitation nor her son's doubts.
Because I'm no longer in the business of wanting.
I'm in the business of having.
Which is gonna make for one wild Paddy's Day.
ABOUT KAYLEY LORING:
Before writing steamy romantic comedy novels, Kayley Loring got a BFA in creative writing and had a fifteen-year career as a screenwriter in Los Angeles (under a different name). She mostly wrote PG-13 family comedies that studios would pay her lots of money for and then never make into movies. In 2017 she decided to move to the Pacific Northwest and write about all the fun stuff that she wasn't allowed to write about in those PG-13 scripts. Now she's an Amazon Top 25 bestselling author who is breathing cleaner air and writing dirtier words. It's an adjustment she's happily getting used to.
Rest assured that her funny sexy sweet romances have no cheating or cliffhangers, and always have HEAs!
CONNECT WITH KAYLEY LORING:
ABOUT CONNOR CRAIS:
Connor Crais is a classically trained actor living in the Midwest with his wife, two kids, and rescue greyhound. He has been both a stage and television actor, and before plunging into the romance genre, he had been narrating commercials, audiobooks, and explainers for well over a decade from his home studio. From alphas to bosses to cocky sports stars (a particular favorite), he loves sparring with beautiful, sassy heroines (and their talented narrators) but also loves winning them over and reaching that happily ever after. He is excited to now create those stories as an author.
CONNECT WITH CONNOR CRAIS:
Hosted By: