Lynn's Romance Enthusiasm
This is for those who love all types of Romance Novels like I do.
Wednesday, July 28, 2021
Narrator: Robin Siegerman
Length: 11 hours 59 minutes
Publisher: Audiobooks Unleashed
Genre: Historical Fiction
#HistoricalFiction #EdithWharton #MustListen #LoveAudiobooks #AudiobookTour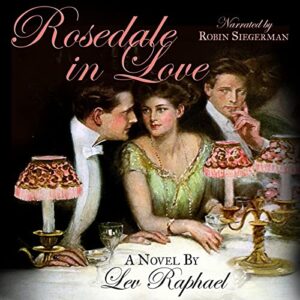 Publication date: September 15th 2020
Genres: Adult, Urban Fantasy
Told in the first person.
Disclosure of Material Connection:
I received this book for review from Xpresso Tours and the author. I was not compensated nor was I required to write a positive review. The opinions I have expressed are my own. I am posting this in accordance with the Federal Trade Commission's 16 CFR, Part 255: "Guides Concerning the Use of Endorsements and Testimonials in Advertising".
At the end of the original Absolution, the Executor traveled back in Time and altered Reality. But by doing so, he set in motion a plan to end his existence and collapse Creation. Because of his actions, there is Absolution: REDUX…
In 1947, a gangster murders private investigator Raymond Adams. In 2011, he's brought back to life for 24 hours to solve the supernatural murder of a Hollywood Adult film star.
When the son of a Pit Lord is murdered in Hollywood, the celestial beings in charge of the Realms ask Raymond Adams to figure who did it and find the victim's missing soul. Without memories of his life, he accepts the case to gain eternal peace. But the job is daunting:
24 hours to nab a killer…
24 hours to find a missing soul…
24 hours to unravel the victim's exotic private life…
24 hours to stop a plot to send the universe into chaos…
With only the help of a possessed cop and a medium, Adams must trek through a Hollywood underground filled with pornography, prostitutes, and sadists, along with supernatural monsters. But can he solve the case when his own haunting memories keep surfacing, telling him exactly what kind of man he was in life?
Goodreads / Amazon / Barnes & Noble / iBooks / Kobo
If you're a person that likes to think you can go back, or even forward, in time why not check out a book that will do that for you. You will want to pay attention to the date that's mentioned at the Prologue. It will help you understand some of the author's word choices.
Ray is telling the reader his story. At times, it was like he was including the reader in the scene. Some of what he might say isn't very pleasant. If you're a fan of Hollywood, you may enjoy this mystery. Maybe you like the reality crime shows, consider this supernatural. I could see Kelly Siegler and her crew, from Cold Justice, becoming a part of this tale.
I liked how the author kept Ray old school. Shows how he seems to be a fish out of water which anyone would be in similar circumstances. Having this story in parts may help you decide on stopping points. Or you may find you don't need to worry about that. I found this to be a complete, and pleasant, surprise. If I go back in time and think about all the books I've read, very few are written by male authors. Gender doesn't make any difference to me but it seems to have worked out that way.
What interests me is if the story grabs my attention and M. Corsair did that for me. I couldn't get enough of Ray and the people that he met along his journey as well as those that helped him with the mystery. And now I can add his name to my list of authors to watch out for. Since this is only the first book of the Elohim Trilogy, I have at least two more chances in my future.
Author Bio:


Louis Corsair is an eight-year veteran of the United States Army. Currently living in Los Angeles, California, he spends his time reading books, going on walks, writing, and enjoying the occasional visit to the beach–while trying to earn an honest buck. As a Los Angeles writer, he feels the weight of famous Los Angeles novelists, like Raymond Chandler, John Fante, Nina Revoyr, among others.
GIVEAWAY!
A digital copy of the five books so far published in this series
Hosted by:
(Fairy Tales of the Magicorum, #7)
Published by: Monster House Books
Publication date: July 20th 2021
Genres: Paranormal, Young Adult
At last, Elle (never call her Cinderella) is reunited with Alec, the Prince of Le Charme Jewelers. Yay! But the pair soon discovers that Alec's gemstone empire is about to go bankrupt. Boo. So our favorite couple devises a kick-ass scheme to save Le Charme. To announce their plan, Elle and Alec will hold a Glass Slipper Festival complete with music, dancing and cake. Lots of cake.
There's only one problem. The Unseelie fae have returned.
Talk about bad news. No one combines lovely looks with dark intentions better than the Unseelie. Now, those nefarious fae want to destroy Elle, Alec and any hope for Le Charme. It doesn't end there, either. The Unseelie are also targeting Elle's stepsister, Agatha, as well as her old friend, Jacoby. And when will the Unseelie launch their deadly schemes? The Glass Slipper Festival.
Because fairies and frosting don't mix.
"I thought the Angelbound series was my favorite, but Fairy Tales of the Magicorum may have stolen my heart." – Smada's Book Smack Blog
FAIRY TALES OF THE MAGICORUM
1. Wolves And Roses
2. Moonlight And Midtown
3. Slippers And Thieves
4. Shifters And Glyphs
5. Bandits And Ball Gowns
6. Fire and Cinder
7. Fairies and Frosting
8 Towers and Tithes
Goodreads / Amazon / Barnes & Noble / iBooks / Kobo / Google Play
Excerpt:
Alec
"It's a tricky thing about living by the so-called Cinderella life template," I explain to Elle. "Everyone knows that the Cinderellas have it rough. That evil stepmother alone is enough to break even the strongest person."
Elle raises her hand. "Testify."
"But guys like me? The princes? It's never easy for us, either. I've looked into the lives hundreds of Prince Charmings. Here's the bottom line. If your parents are forcing you into a choosing a random bride at a ball, then something is wrong."
"I never thought of it that way." Elle fixes me with a look that overflows with understanding. This is hard stuff to talk about, but with Elle here, anything is possible. "What about your mother and father?"
"The funny thing is, my parents actually got their happily ever after. Not with each other, though. They were both deeply in love with Le Charme Jewelers. The name… the money… the glamour… they couldn't get enough. My parents met as strangers and stayed that way."
Elle frowns. "I don't get it. If they cared that much about the company, then why is the company in such rough shape?"
"They treated Le Charme the way they treated themselves. As long as things looked right, they didn't have to be right. Does that make sense?"
"It does. They just took out more loans and kept going."
"My father always had these grand schemes, like building the L Center. Those weren't real business opportunities that he mapped out and researched, though. He just thought it was fun to have a huge building named after you in the middle of Manhattan." I shiver. "And everyone around them played by the same rules or they were fired. I was surrounded by a world of beautiful illusions… and I was the only one who saw the truth underneath."
I take Elle's hand in mine. "Then I saw you at the loading dock for the L Center. You were all things gorgeous and bright. That Rae light from your mother shone all around you."
Elle blushes. "I was a sweaty mess dragging a broken wagon of knickknacks."
I pull her closer on the bench, guiding her legs across my lap. "You were perfect in your imperfection. Same as when I saw you later on the security cameras, un-stealing jewelry from my office. For me, Le Charme is a responsibility… a broken machine that I inherited and must fix. I'd sell it off if I could, only there's too much debt."
"And too many dwarves."
"Yes, I can never forget the dwarves. They're my family." I set my knuckle under her chin. "But you? You're my dream. And not because you'll magically make everything better, either. It's more that I trust you to my marrow. You'll fight at my side to make everything the best it can be."
Elle blushes. "And I love you, too, Alec Le Charme."
Author Bio:
Christina Bauer thinks that fantasy books are like bacon: they just make life better. All of which is why she writes romance novels that feature demons, dragons, wizards, witches, elves, elementals, and a bunch of random stuff that she brainstorms while riding the Boston T. Oh, and she includes lots of humor and kick-ass chicks, too.
Christina graduated from Syracuse University's Newhouse School with BA's in English along with Television, Radio, and Film Production. She lives in Newton, MA with her husband, son, and semi-insane golden retriever, Ruby.
Be the first to know about new releases from Christina by signing up for her newsletter:
http://tinyurl.com/CBupdates
Blog / Website / Facebook / LinkedIn / Twitter / Instagram / Newsletter
GIVEAWAY!
A Kate Spade bag

and

more!
Hosted by: